If you're not using Google Chrome at home, you may want to start using it because it offers improved security over some of its counterparts. I have used Chrome over the years and in my personal opinion, it's faster, lighter and easy to use when compared to Internet Explorer or Firefox.
One of the advantages Chrome has is a feature that warns users when they attempt to visit a website that is distributing malware or spyware.
This can help you avoid being hacked or preventing unwanted software from being installed on your computer without your knowledge. This brief tutorial is going to show you how to easily enable (if it's not already enabled) this feature in Google Chrome.
Most embedded script on websites that are distributing malware and spyware are doing so without the knowledge of the site's owners. This can be very dangerous.
Unsuspecting users who browse these sites get their PCs infected without their knowledge. Google Chrome helps to prevent this.
Thinking that the site is secure and you decide to go there, Google Chrome will block it and alert you of the danger. Although you can override it and go there anyway, it's not recommended.
Enabling Google Chrome Phishing and Malware Protection
To enable this feature in Google Chrome, open your browser and select the Tool Menu at the top right of your browser. Next select Settings and at the bottom of the Settings page, click Advanced Settings to show more advanced settings.
There you can check the box that enables phishing and malware protection.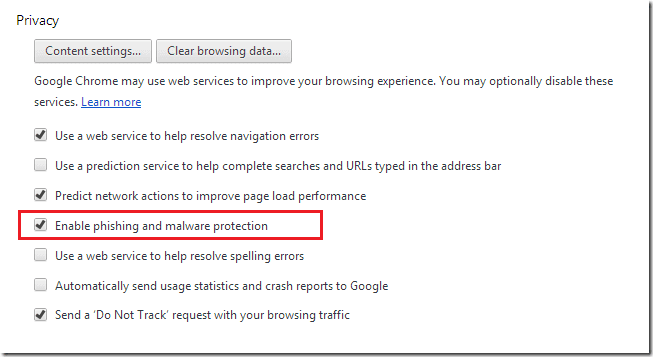 When you're done, re-open Chrome and begin using the feature in Chrome. If you haven't touched settings in Google Chrome, then this feature should already be enabled because it's enabled by default.
That's it!
Enjoy!