Gmail service is one of the most used email services in the world. It was developed by Google. It is used by 1.8 billion people and counting, which makes it the most-used email service in the world. The Gmail mobile app is supported on both Android and Apple smartphone devices. As Gmail is a web-based mail service, it does not have an official desktop app on Windows. But, if its official desktop version existed it would have been more fun. However, desktop email clients have the capability to store emails locally and access them at any time.
Does Gmail Have the Official Gmail Desktop App?
No, Gmail does not have a downloadable official desktop app for Windows. Furthermore, its desktop app is not available for Mac OS, Chromebook, and Linux. However, there are various desktop email clients such as Outlook for Outlook users and Apple Mail for iCloud email accounts
Luckily, Google allows its users to use third-party email clients to sign in to their Gmail accounts. This means that if you have installed desktop email clients like Kiwi, Thunderbird, or Mailbird then you can integrate the Gmail account with these apps. You can send and receive all the important Gmail emails through third-party desktop apps.
How to Download Gmail as a Desktop App on Windows?
Google has not yet officially released the Gmail desktop app for Windows. However, Gmail apps on desktops can be created using a shortcut hack, which is through Google Chrome, and Microsoft Edge browsers.
Method 1: Create a Gmail Desktop App Shortcut on Windows Using Chrome
The Google Chrome browser can turn Gmail into a desktop app by following the mentioned instructions:
Open Chrome and log in to your Gmail account.
Select three dots in the upper corner.
Select More tools and choose Create shortcut:
Assign the name to the Gmail shortcut.
Mark tick the Open as window check box.
Click on the Create button to create the Gmail shortcut on the Windows desktop:
The Gmail desktop app shortcut has been created successfully.
Double-click on the Gmail desktop app shortcut to open it: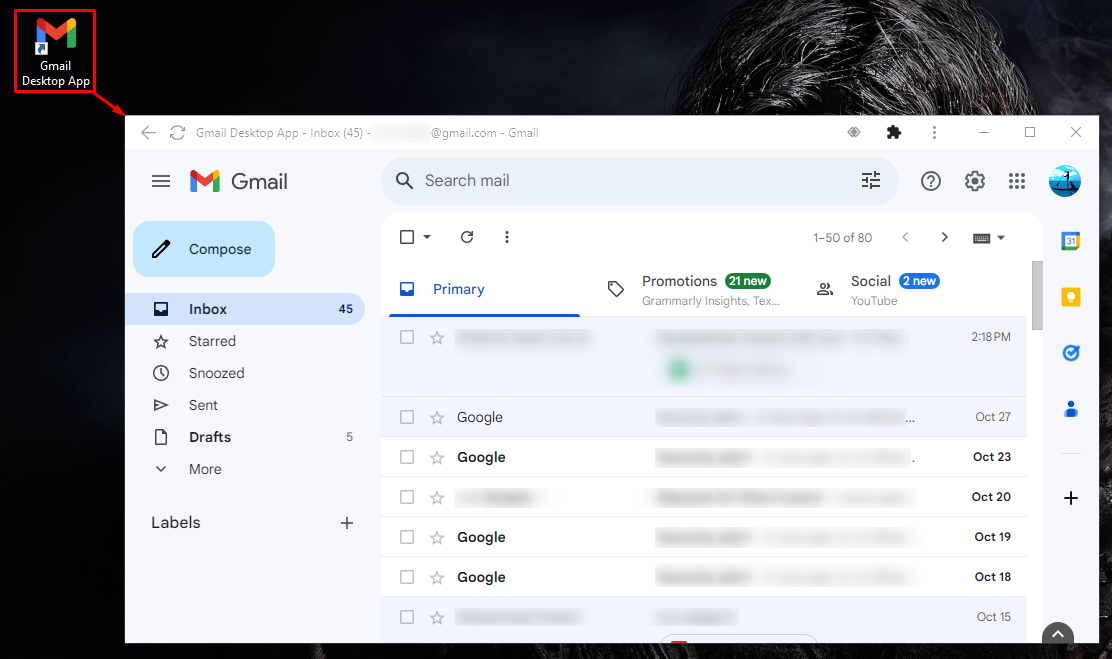 Method 2: Create a Gmail Desktop App Shortcut on Windows Using Edge
The Microsoft Edge browser can be used to transform Gmail into a desktop app by following the mentioned instructions:
Open the Microsoft Edge browser and sign in to your Gmail account.
Select the three-dot menu.
Click on the Apps button and select Install this site as an app:
Name the Gmail desktop shortcut app on Windows.
Select the Install button to create the Gmail app shortcut on the desktop:
Bonus Tip: How to Use Gmail Offline on Desktop?
To use Gmail offline, check the mentioned instructions:
Select the Settings gear.
Click See all settings option:
Navigate to the Offline tab menu:
Mark tick Enable offline mail:
Select Keep offline data on my computer option.
Lastly, click the Save Changes button:
Bonus Tip: How to Uninstall Gmail's Desktop App?
The Gmail desktop app can be uninstalled from the Windows settings. To uninstall the Gmail app, check the mentioned steps:
Open Settings by pressing the Windows+I shortcut key.
After launching Settings, open the Apps settings:
Locate and open the Apps & features section.
Find the Gmail app and click the Uninstall button:
Bonus Tip: Best Alternatives to the Gmail Desktop App on Windows
As we have come to know that the official Gmail desktop app on Windows, Mac, or Linux does not exist. However, there exist a number of third-party desktop email client apps that provide enhanced functionality and interface to Gmail users. We have shortlisted five Gmail desktop app alternative apps that can provide a better experience for Gmail users.
1. Kiwi for Gmail
Kiwi can be called the perfect alternative for the Gmail desktop app on Windows. Kiwi provides a number of built-in features for Gmail users. It provides support for accessing more than one email account inside a single user interface. Kiwi comes with the system notifications and keyboard shortcuts. Apart from Gmail, Kiwi users can access other Google applications, such as Docs, Calendar, and Sheets. Kiwi is a paid email client.
2. Thunderbird
Thunderbird is a Mozilla product and it has more demand among Windows 10 users. It is a free Gmail desktop app alternative. It provides easy tools for email management. Thunderbird has various free customizable themes to enhance the user experience. It also supports add-ons to increase productivity. Thunderbird is a free email client.
3. Mailbird
Mailbird is a free, feature-rich email client for desktops on Windows. Users can log into a number of email providers including Gmail. It shows the emails as conversation threads. With Mailbird, you get access to calendars, tasks, and documents using its dashboard. It has a free range of customization tools and options. It lets you customize the background, reading pane, and its interface colors. It initially offers a free trial and then starts charging the users on a monthly basis.
4. Microsoft Outlook
Microsoft Outlook is Microsoft's official email provider application. However, it provides support for other email provider users to sign in to their email accounts such as Gmail. Outlook provides a simple and easy-to-use interface. It allows system notifications for Gmail and other emails. It provides the free 5GB of storage space, which is enough for the basic users.
5. Mailspring
Mailspring is a free email client that is available on all operating systems including Windows, Linux, and Mac OS. Mailspring has everything that is needed to end email users. It allows email users to manage their accounts efficiently with its application. Mailspring is a premium email client and it is quite expensive than other mentioned email clients.
Conclusion
Gmail does not have the official desktop app for Windows yet. But still, the Gmail desktop app can be installed on Windows using a hack. That hack is to install the Gmail desktop app using internet browsers including Chrome and Microsoft Edge. To create a Gmail app shortcut, open the Chrome. Log in to the Gmail account. Open the Chrome menu, select More Tools, and select Create shortcut. After that, name the Gmail shortcut, mark check the Open in new window box, and hit the Create button.