BitLocker Drive Encryption helps you protect your files on an entire drive. It will deny access to hackers and anyone who steals your computer and tries to access your information without authorization. It is a cool technology and it comes with Windows 8 and 8.1 Pro and Enterprise.
One downside with BitLocker is that it doesn't work by default on some older computers without Trusted Platform Module (TPM), a special microchip that provides advanced security features on computers. Without this module, BitLocker will not work without first enabling some settings. If you attempt to enable it on a computer without TPM, you'll get "This device can't use a Trusted Platform Module…."
This brief tutorial is going to show you how to enable it on your computer without TPM to protect your important information.
Here's a warning: If you choose to turn on BitLocker you'll be prompted to create a recovery key and password to boot your computer. Save the key somewhere safe, otherwise, you could permanently lose access to your files and documents.
When you're ready, press the Windows Key + X on your keyboard to display Windows 8 Tools Menu. When it opens, select Run
Next, type gpedit.msc in the box and press Enter or click OK
Then browse to Local Computer Policy –> Computer Configuration –> Administrative Templates –> Windows Components –> BitLocker Drive Encryption –> Operating System Drivers. Then double-click on Require additional authentication at startup to open the settings page.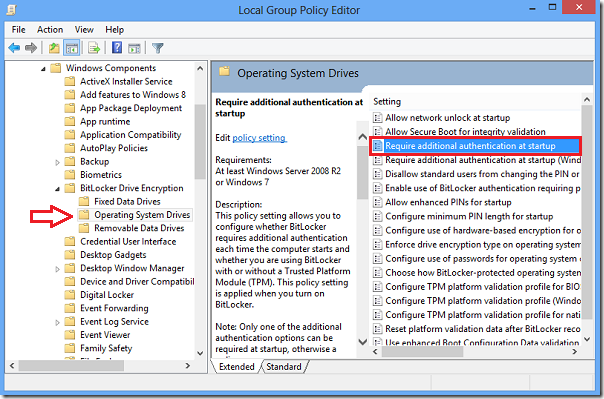 Next, enable it and close out.
That's it! You should now be able to enable BitLocker Drive Encryption in Windows 8 and 8.1.
Remember to keep the recovery key in a secure place or else lose access to your entire drive's content.
Enjoy!