Want to increase or decrease the font size in Windows 8 without changing your screen resolution? This brief tutorial is going to show you how to easily make the text on your screen larger or smaller in Windows 8. You can do it without changing the resolution of your monitor or laptop.
Keep the same resolution but increase or decrease the text and everything on your desktop.
To adjust the text and everything on your desktop in Windows 8, press the Windows Key + D keys on your keyboard to show Windows 8 Desktop Mode. Or simply click the Desktop tile from the start screen when you login.
Next, right-click any blank area of your desktop and select 'Personalize'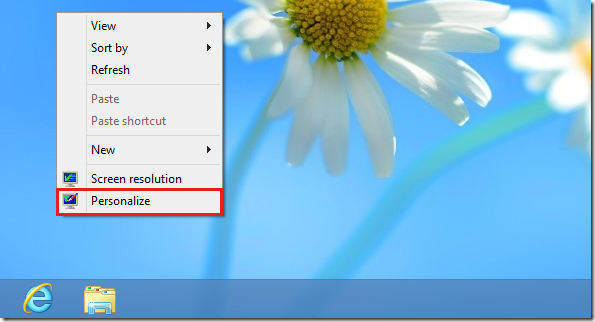 Then select the 'Display' link at the bottom left corner of your display
Finally, choose the size of all items as shown below. The default text size is smaller. But you could choose Medium or Larger. To increase it even more, select 'Custom sizing options' below the choices shown.
To change the size of all items on your desktop, select a percentage from the list or drag the ruler.
To save your settings, you must click 'Apply' then sign out and sign back in to see the changes.
The Display lets you change the size of text and other items on your screen without changing your resolution. It's recommended that you set your scree to its native resolution to avoid blurry text and pictures.
Enjoy!