Recently, it's been a pain trying to delete old snapshots of my Ubuntu guest machines using VirtualBox. It turns out that VirtualBox creates a second VDI image when you create snapshots and deleting that snapshot to revert changes to the Ubuntu guest machine isn't easy. One keeps getting the error that VirtualBox failed to delete the snapshot of the virtual machine.
It only happens to my Ubuntu guest machines and not Windows. Well, if you find yourself in this same situation, continue below to learn how to delete that stubborn virtual machine snapshot.
Objectives:
Delete VirtualBox Guest Machine Snapshots
Enjoy!
The error you get when trying to delete the snapshot is the one below.
T fix it, go to 'File –> Virtual Media Manager' or press Ctrl – D on your keyboard.
Then select the virtual machine hard disk and expand. Select the one that will say 'Not Attached' when you click on it. Then click 'Remove'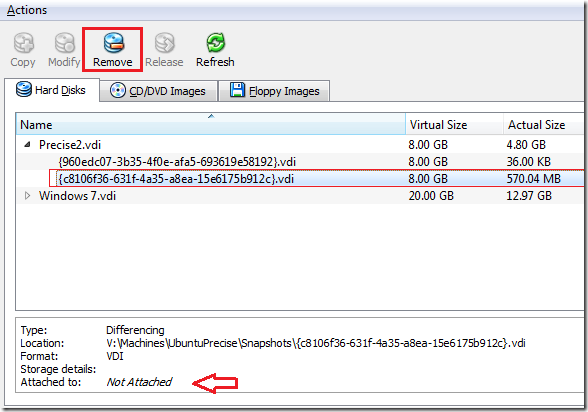 When prompted, click 'Delete'
Now go back and you should be able to delete your virtual machine snapshots.
Enjoy!