The modern workplace is unthinkable without Microsoft Office Outlook – an application that streamlines communication and organizes our chaotic workdays. However, it's no secret that occasionally we may encounter errors that throw our productivity off balance. One such pesky error is the "Cannot Start Microsoft Office Outlook" error. If you've seen this ominous message and felt a sinking feeling in your stomach, you're not alone.
Common Causes of the Error
While the "Cannot Start Microsoft Office Outlook" error might seem cryptic, it typically occurs due to a few standard issues. An abrupt shutdown, a software crash, or even a sudden power outage can corrupt the Navigation Pane settings file – an integral component of Outlook's functioning.
Other times, it's the add-ins you've installed to customize your Outlook experience that might be at odds with the application. And in some cases, it's the Outlook data files (.pst or .ost files) that get damaged, triggering this error.
The Impact of the Error on Your Work
The immediate impact of this error is clear – you can't start Outlook. Consequently, you lose access to your emails, your contacts, and your calendar entries, leading to a potential halt in communication and a massive slowdown in productivity. This loss can be particularly severe if you're in the middle of an important project, waiting for a crucial email, or planning a meeting.
Effective Solutions
The silver lining is that this error is not insurmountable. There are a few tried-and-true solutions that can help you get Outlook up and running again.
1: Restarting Outlook
One of the simplest methods is restarting Outlook. You might wonder, "How can it be this easy?" Surprisingly, a lot of minor glitches can be rectified just by closing the application and reopening it. This process resets the application, clearing any temporary bugs that might have crept in.
2: Running in Safe Mode
If restarting Outlook doesn't work, the next step is to try launching Outlook in safe mode. This method allows you to open Outlook without loading any add-ins that might be causing the problem.
To launch Outlook in safe mode:
Press the Win + R keys to open the Run dialog box.
Type Outlook /safe in the box and press Enter.
If Outlook opens without any issues in safe mode, it's likely that one of the add-ins is causing the problem. The below screenshot shows that it is working fine.
3: Repairing Your Outlook Data Files
In some cases, the error might be due to corruption in your Outlook data files. In such cases, Outlook provides a built-in tool known as the Inbox Repair Tool (ScanPST.exe) that you can use to fix your data files.
To use the Inbox Repair Tool:
Close Outlook.
Locate ScanPST.exe on your computer. The location varies based on your version of Outlook and Windows.
For Windows 10: C:\Program Files\Microsoft Office\Office16\SCANPST.EXE
For Windows 7: C:\Program Files\Microsoft Office\Office12\SCANPST.EXE
Double-click ScanPST.exe to open it.
Click 'Browse' and navigate to the corrupted PST file.
Click 'Start' to begin the repair process.
Once the repair is completed, restart Outlook and see if the error persists.
4: Creating a New Outlook Profile
If all else fails, creating a new Outlook profile could be the key.
To create a new profile:
Open the Control Panel and go to User Accounts.
Click on 'Mail'.
In the Mail Setup window, click 'Show Profiles.'
Click 'Add' to create a new profile and follow the setup wizard.
After creating a new profile, try launching Outlook again.
Additional Troubleshooting Techniques
1: Updating Your Outlook Application
Last but not least, ensuring your Outlook application is up-to-date is a good preventive measure against errors and glitches.
To update Outlook:
Open any Office application.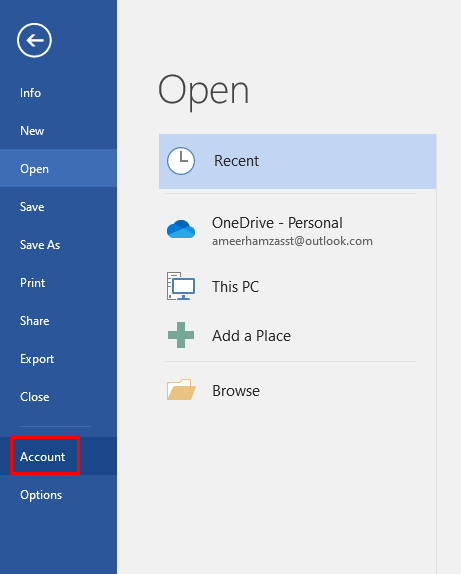 Click 'File' > 'Account.'
Under 'Product Information,' click 'Update Options.' Note that since it is already up to date, the Update Option is not shown in the above screenshot.
Select 'Update Now'.
If updates are available, they will be downloaded and installed automatically.
Conclusion
While the "Cannot Start Microsoft Office Outlook" error can disrupt your workflow and cause frustration, with a little patience and methodical troubleshooting, you can resolve it. These strategies are not just fixes, but they also arm you with the knowledge to prevent such issues from recurring.