A new version of Microsoft Security Essentials has just been released for those using Windows XP with Service Pack 3, Windows Vista with Service Pack 1 or 2 and Windows 7 computers.
Microsoft Security Essentials is a free security program that provides real-time protection for your home and work computers. It protects against viruses, spyware and programs that may want to do harm to your PC. If you don't have any virus protection for you computers, Security Essentials is a great program to install.
Before you can install Security Essentials, make sure your computer meets the following requirements. It must be either Windows XP, Vista or Windows 7 running at least service pack 3 for Windows XP, service pack 1 or 2 for Vista. It will install for all Windows 7 editions.
It's also recommend that you remove or uninstall all other antivirus programs from your computers. Running more than one antivirus and antispyware software on your computer may have negative impact on the PC performance.
Security Essentials is free and comes with Windows Updates. To upgrade using Windows Update, click Start –> All Programs –> Windows Updates. Then check for update and install.
If you want to manually install it, visit Security Essentials download page.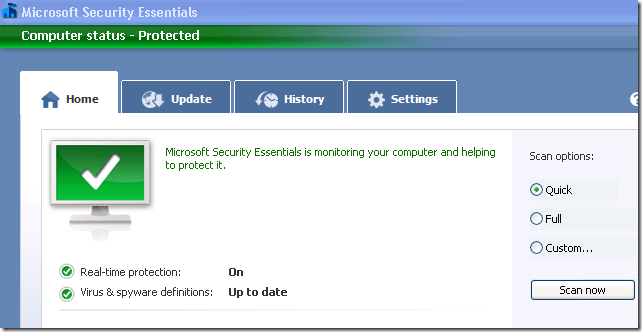 If you have Windows 8.1, you can't use Security Essentials. Windows 8 and 8.1 come with Windows Defender that provides the same built-in protections for Windows PC.
Windows Defender is already installed in Windows, so you don't have to do anything. Windows will also automatically update it as well as its definition files.
Enjoy!