Are you subscribed to Google Docs Online? Do you want to synchronize your Google Docs in Ubuntu? If you do, then you're in luck, because Super Flexible File Synchronizer lets you do just that.
SFFS works in Windows, Mac and now Linux (Ubuntu). It simple GUI helps you synchronize and backup your Google Docs using ZIP compression and data encryption.  In this brief tutorial, I'll show you how to download and configure Super Flexible File Synchronizer in Ubuntu 11.10 (Oneiric Ocelot) so that your documents, whether online at Google Docs or on your location computer, can be in synced. When you're don't, all changes made online at GDocs will apply to Ubuntu and changes made in Ubuntu will apply at Google Docs.
Objectives:
Download and configure SFFS
Enjoy!
To get started, download Super Flexible File Synchronizer from here. When prompted, 'Open with Archive Manager'
Next, select the downloaded file and click 'Extract'
Then copy the executable file inside and past it on your desktop. This is a self-contain executable and there's nothing to install.
Next, double-click the SFFS executable to launch. Then click 'Perform a synchronization or backup now'
Next, select the Internet icon for 'Left-Hand Side' box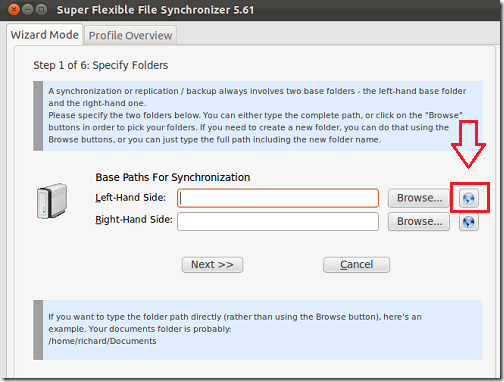 Then select 'Google Docs' as the protocol to use and type your Google account info and save.
Back to the folder path selection, click 'Browse' or type the path do your document in Ubuntu.
/home/<username>/Documents

Next, select both 'Left To Right' and 'Right To Left' as copying direction. This will make it so that when you update documents in Ubuntu, the changes will apply to Google Docs and vice versa.
Next, choose 'SmartTracking' and click 'Next' to continue.
Then choose 'Synchronize in Real Time' and 'Run Upon Startup' options and continue.
Finally, type a name for the profile and click 'Save/Run' to complete.
After running, check the Documents folder in Ubuntu to view all Google Docs content.
That's all to it.
Things to remember:
When setting up Google Docs Protocol username and password and you get an error about libssl.so missing, run the commands below to install.
sudo apt-get install libssl-dev
Scheduling wasn't successful when I was testing. I had to manually click 'Run' to synchronize my documents
Other features are still not working in Ubuntu.
Enjoy!