Last week we showed you how to automatically backup your data to SkyDrive in Ubuntu. This tutorial is the Windows version of what you saw last week. If you remember, we told you that Microsoft offers a free 25GB of online storage that you can use to store your data anyway you want. With that free space, this brief tutorial will show you how to setup an automatic backup and restore process in Windows 7 so that when you lose your data on your computer, you can then go to SkyDrive and restore that data onto another computer.
This is like your own Carbonite online store, only free.
Objectives:
Install and configure Gladinet
Configure Windows Backup
Enjoy!
To get started, click here to download 'Gladinet Cloud Desktop'
After installing, select the free option and click 'Next' to continue.
Then click 'Add My Cloud Storage Account'
Next, choose 'Windows Live SkyDrive' from the drop-down list. You may also change the name of the Virtual Directory as you wish.
Then type your SkyDrive (Hotmail) username and password and click 'Next' to continue
Finally, click 'Finish' to complete the process.
When you're done, open 'Computer' and you'll notice SkyDrive mounted with the letter Z. Open the Z drive and browse your SkyDrive Content. At this point, you'll also want to create a folder where you'll be backing up your Windows' data.
When the folder is created, click 'Start –> and starch for Backup and Restore'
Then click 'Set up backup' to begin setting up your backup job.
Next, choose 'Save on a network'
Then type your username and the location to your SkyDrive folder.
\\localhost\resouces\SkyDrive\Backup_Folder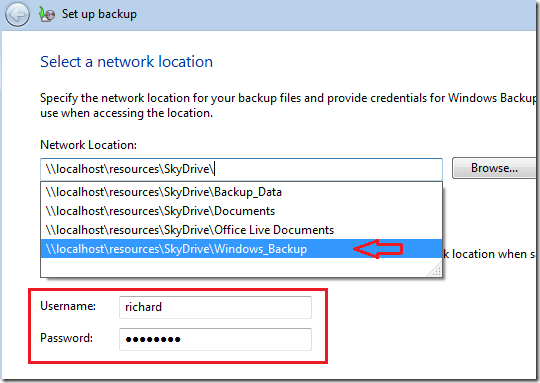 When you're done, click 'Next' and choose the option #2 (Let me choose)
Then select the folders you wish to automatically backup to SkyDrive. Since SkyDrive has a limited space (25GB) make sure only important stuff get backup there.
Finally, click 'Save setting and run backup'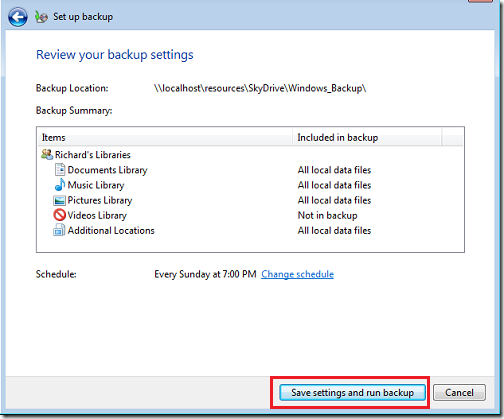 That's all!
You data will automatically backup to SkyDrive online storage securely.